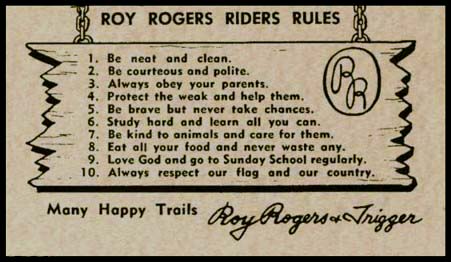 I believe in "God, Family and Country", just like our western heros, *Roy Rogers* and *Dale Evans*!! I want to show my love and admiration; my respect and honor for them and their family here on these pages.



Roy Rogers & Dale Evans were my childhood heros, like many of you. Today, they still are my heros!! Their family values, with their love for God, Family and Country reigns, still in the hearts of so many of their many fans, throughout the globe. Their Christian testimony shown through in their wholesome entertainment of "children of all ages".

Many years ago in one of their appearences at Madison Square Gardens in New York City, they almost did not go on because the organizers wanted them to take out their religious music. Roy & Dale stood firm in their beliefs. Guess what folks! Roy and Dale DID GO ON with 'the show'!!